Technosoft's Remote Infrastructure Management Services or TRIMS® is a newly launched branded value-based technology service based upon the success achieved for select customers over the past few years 
It is a bundling of technology support that adds more services on top of traditional RIMS. TRIMS® enables an enterprise to dramatically reduce IT run rate expenditures for current functions by as much as 30 percent. It also helps customers gain faster, more flexible service directed at the remote distributed user environment with end-to-end applications and 24/7 technology support and service which is location independent.
Why should an Enterprise deploy RIMS (Remote Infrastructure Management Services)?
Geographically dispersed IT environments create serious business challenges. Lack of adequately skilled in-house IT professionals can limit a company's responsiveness to new business initiatives. Organizations need to take effective measures to tackle high costs, operational inefficiency, and vulnerability to IT related risk, slow time to market and poor customer service.
When you lack the time to plan the growth of your IT infrastructure, the end result can be a cumbersome, difficult-to-manage environment. Enterprises need to increase flexibility and responsiveness to business changes for optimal operational efficiency.
RIMS help to leverage expert IT skills and staffing to enhance operational efficiency and improve customer loyalty and retention by keeping business-critical systems running. There are several strategic benefits that RIM offers. It reduces IT costs and improves shareholder value. At the same time, it also provides the flexibility to transition and transform to the next generation of infrastructure and applications.
Tiered framework of services with a heterogeneous process of implementation in three domains of operations with service segments
Core Services
Service desk and end-user management
System administration
Network administration
Database & applications delivery management
Performance monitoring
Value Added
Desktop/Desk--side management
Security administration team
Backup and archiving
Mail management
Remote diagnostics and troubleshooting
Upgrade and patch management release
Performance Enhancement
Asset management
Utility management
Vendor management
Product Evaluation
Hardware & software procurement and decommissioning
Application Support Project management for system integration
Customers will appreciate an innovative company that can take more off their plates in IT management. Key differentiators include:
Value-added services: including asset, security, capacity, and vendor management
Pricing and pricing structure: fixed baseline costs with variable costs for variable services and functions provided
Alliances with selective technology vendors, as needed, who also deliver IT innovation within TRIMS® using the latest best practices  and technology in areas such as security, recovery and IT Service Management
Managed services through dedicated account management and teams
Risk and reward guarantees with specific service levels
Variable duration and location contracts
No risk due diligence process: prior to commencement to validate outcomes, proper scope and benefits
01
A biopharma service provider modernizes and scales its IT infrastructure for reduced opex, increased productivity, end user satisfaction and greater efficiencies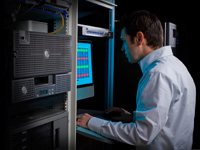 Technosoft was selected to help our client move from a fragmented, specialized and distributed IT support model to a unified command center. Underpinning this transformation was a Systems Operations Center (SOC) and an Operations Bridge. The suite of services encompasses over 12 functional areas of infrastructure support and a comprehensive service catalog.
It was decided to start small and the first engagement began in 2008 as a pilot for providing database administration support and based on our early success we expanded into desktop support. Today, the relationship has grown into a team size of over 150, offering support in multiple geographies, across multiple areas, technologies and platforms through a dedicated team with diverse skill-sets and a state-of-the-art Systems Operations Center.
Our client's IT infrastructure has scaled dramatically over the last few years, going from a regional focus and being highly siloed and fragmented to one that is truly a global and seamless operation with significantly enhanced responsibilities and supporting revenue generating applications with added headcount.  Some of the value-based outcomes realized include:
$4MM in annual cost savings reducing operating expenses
SLA compliance across services > 90%
Customer Satisfaction consistently above 90%
Anytime availability of resources across diverse technologies to attend to all end user needs regardless of geography and environment
Managing ever growing volumes with a steady headcount
Migrating to a modernized and highly robust IT infrastructure
Download to read this in-depth case study.