In today's wireless working environment, mobile devices are the new workstations, opening up the doors in the corporate field to an unprecedented level of communication between consumers and employees. Virtual interaction and collaboration is becoming the key to successful and instantaneous business communication in today's highly competitive enterprise landscape. Majority of the enterprises are putting emphasis on mobility solutions into completely changing their operating models, or even moving to mobile-first phenomenon to incorporate the technology into their business operations. These solutions allow the employees to work from anywhere, anytime supported by Mobility and Cloud.
Enterprise mobility solutions are becoming a strategic priority for CIOs to further increase and heighten their business execution. In coming years the shift to a mobile-centric model is all set to accelerate. With the already installed base of smart phones and tablets we are now in the early stages of a dramatic shift in the user experience. This rapid adoption of mobile technologies is driving organizations to enhance device and service management capabilities.
Also to realize the full potential of the big data and analytics in the enterprise arena requires extending it to mobility and often these analytics is running on the cloud.
For a successful deployment of mobility it has become essential for an organization to devise strategies, which necessitates the selection of an effective network provider with vast network reach and with ability to provide excellent service, appropriate application providers who can provide device specific solutions, and a suitable device with proper security measurements in place. The Synergy of these various value chain participants through strategic alliances would be highly necessary for a successful mobility ecosystem.

Mobility as a Service
A Mobilized organization has the ability to transform virtually every facet of the way business is carried on. Our enterprise mobility services cover the client's mobility needs from strategic planning to device management to end-user applications and network infrastructure. As an Enterprise Mobility Orchestrator, we provide solutions that guide our clients' through the journey to mobility.
With the Launch of MOBXL by Technosoft Corp, clients have a one-stop solution for all their mobility related services.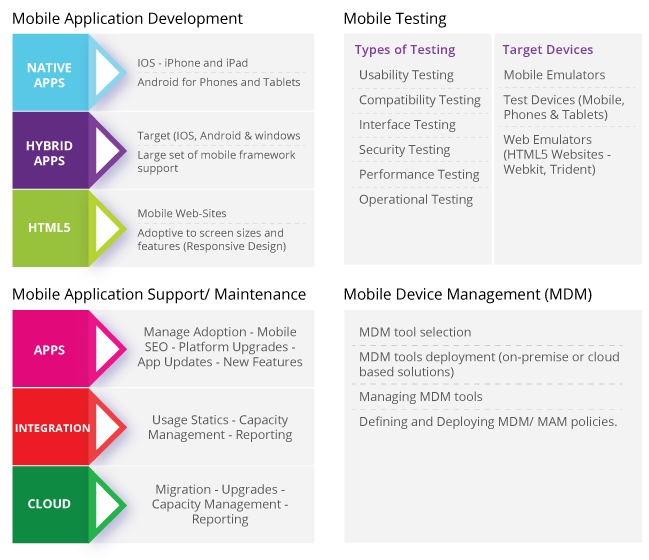 Mobile Application Development
Our enterprise mobile application solutions have delivered complex apps across domains. We have the right experience to contribute to your mobile success.
Native App: A native app is developed for use on a particular platform or device. As native apps are written for a specific platform, they can interact with and take advantage of operating system features, hardware features and other software that is typically installed on that platform (iOS, Android and Windows Mobile).
Companies that are looking to promote themselves to the smart phone market have other options beyond native mobile apps.
Hybrid App: This type of application has cross-platform compatibility with limited access to the device hardware. The frameworks such as SenchaTouch, PhoneGap or Titanium are typically used for such Apps.  The advantage with Hybrid Apps are that they can be written once and run across different platforms and hence provide better code reusability and better cost effectiveness. This is best suited for line of business applications with less resource needs and device integrations. In modern Hybrid Apps, a combination of Hybrid and Native code can also be used, so that only platform specific features are in native and rest is written in Hybrid thereby getting the best of both the worlds.
Web App: A website that is tailer-made to function on a mobile device and runs out of the device browser's capability. Today's technology allows for something called bootstrap which detects the device features and capability and tailor the website accordingly.
Mobile Device Management
With the growing number of device models, platforms and operating system businesses are facing new and complex mobility management challenges. Accessing corporate resources from a mobile device can introduce a significant threat to corporate security.
Mobile Device Management enables businesses to address challenges associated with mobility by providing a simplified, efficient manner to view and manage all devices from the central admin console.
Further, we help customers in setting up user policies, Security Setup Production and Installation L1 & L2 support and lifecycle management.
Mobile Consulting
Businesses today are looking for smarter ways to work. From simple mobile data and email, enterprises are moving to mobile apps for increased efficiency, productivity, customer engagement, and workforce collaboration. We offer strategic mobility consulting to help businesses define and evaluate the mobility roadmap.
With hundreds of Internet users and tens of billions of mobile devices to connect to the web, new standards have been set for enterprises around the globe. We provide mobility solutions to prepare our clients to meet market demands and capitalize on the opportunities that mobility presents.
Our expertise solution includes:
Competitive study highlighting application and feature level understanding on existing apps in the similar domain
Technical feasibility analysis
Map business process to decide which enterprise apps go to mobile
Integration with existing IT systems
Flexible engagement models as per the client requirement
Application type selection (native v/s mobile web v/s hybrid)
Comprehensive Mobile Security Solution
Securing mobile devices have become increasingly important as the numbers of the devices in operation and the uses to which they are put have expanded dramatically. The problem is compounded within the enterprise as the ongoing trend toward IT consumerization is resulting in more and more employee-owned devices connecting to the corporate network.
Our security solution includes:
Developing a mobility security strategy
Security assessment
Evolving mobile security policies
Methodologies and tools for complete mobile security systems
Customized solutions for Mobile Data Protection
Technosoft's MOBXL provides a simple, fast, and controlled approach for implementing mobile solutions to companies of all sizes delivering tangible benefits. We work with companies throughout their mobility journey to enable them to maximize the potential of their mobile implementation.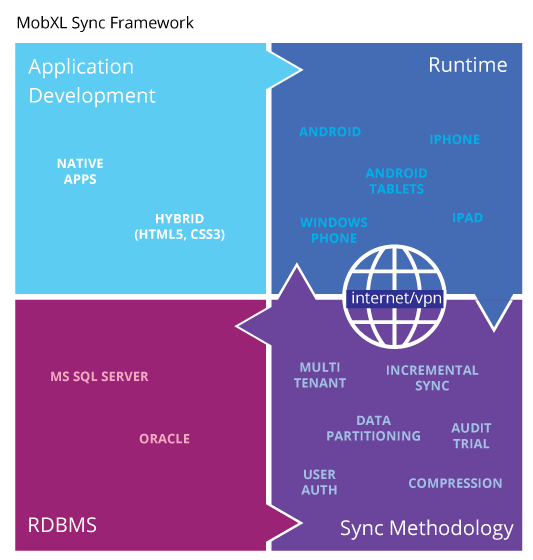 Efficiently create, deploy and operate mobile solutions using an 'as a service' model
In-depth understanding of diverse mobile platform nuances for native application development that exploit device specific features and functions
Proven track record of full SMAC implementations – We have long presence in Data Sciences Practice for Analytics, ALiS Practice (on Microsoft and Open Source technologies) for Cloud, and Mobility practice and hence uniquely positioned to leverage the full benefits of SMAC for the client requirements
Mobile based data analytics for informed decision making
Mobile enablement of enterprise applications, resulting in up to 80% productivity improvement
Replace paper based business processes with mobility solutions resulting in up to 99% error reduction
Host and support BYOD (bring your own device) in the office
Integrate mobile devices seamlessly into your back-end systems - simply and effectively through standardized connectors
Significantly reduce the cost and complexity of mobile device application development and management
Services Offerings

Technosoft combines the latest in mobile technology, methods of engagement, and system integration — to deliver innovation that leaves an everlasting impact on our client's business.
With a complete spectrum of service offerings from Mobile based solutions to mobile technology services, Technosoft is a single stop shop for an entire mobility solution
Technosoft offers real-time mobility solutions, providing a bi-directional flow of information between all operational stakeholders. We offer enterprise mobility solutions and services which include:
Enterprise Mobility/SMAC Advisory Services & Consulting Services
Enterprise Mobility Transformation
Mobile App (Application) Implementation Services
Mobile Web (RWD) Development
Mobile/SMAC enablement of enterprise applications
Mobile Technology Migration (MTM) / Porting Services / Platform Migration
Enterprise Mobility Services for Digitization / Digital Content Rendering
01
MobXL empowers healthcare salesforce with enhanced productivity and responsiveness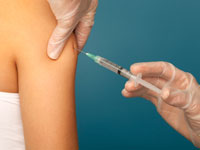 The typical day of an Account Executive at a leading wellness service provider is busy. Responsible for signing up new clients for healthcare programs, they are always on the go and this leads to challenges in accessing information and responding to end client queries. Technosoft's Mobility practice - MobXL -developed a native mobile application on the iOS and Android platform that allows them to raise orders for new programs, track the status of new orders, schedule programs and clinic orders, and view their calendar of scheduled programs as a dashboard. This application exploits the native GPS feature to provide directions to the clinic. The outcome? Increased customer satisfaction and quicker turnaround in meeting client needs.
02
Embrace of enterprise mobility streamlines the workflow and brings efficiencies to wellness processes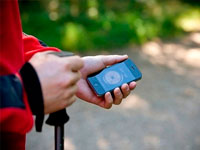 Our client has Nurses (also known as Providers) who provide various wellness services and interpret the data collected. MobXL developed a native mobile application on the iOS and Android platform that notified the nurses of new programs scheduled, offered them the option to either accept or decline it and tracked the approval and assignment progress. It provided directions to the venue by interfacing with the GPS function. Post-event it allowed invoice submission.
03
An innovative mobile application makes the paper disappear. A wellness provider sees increased patient volumes and reduced errors
The traditional bubble form approach to gathering the patient data, body vitals and results is time consuming and error prone (due to manual capture) with increased costs and overhead associated with managing and destroying the hard copies. The end result is ever increasing lead times for the entire cycle from data collection to report preparation and dispatch. MobXL developed an iOS and Android based native application with features like appointment management, direct entry of data into the application (bypassing the bubble form) and immediate results generation. It also integrated with the invoice submission and staff evaluation modules. The outcome? Greatly reduced errors with a 90% improvement in data integrity, shrunken lead times while increasing by 75% the volume of patients handled.
04
MobXL brings performance data from the game floor to the top floor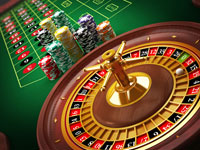 Our client is a brand new casino and their decision making abilities was significantly hampered by the unavailability of data points pertaining to business performance. The solution? MobXL developed a mobile website wrapped in a native application that interfaced to the data warehouse. The senior leadership could now see performance data across business segments in near real-time. Push notifications informed the executives each time data was updated. This application was developed for iOS and Android and used the .Net Framework 4.0.