Contemporary business's success lies in being customer centric. A long lasting customer relationship is a strategic advantage. But this is not as simple as this sounds. Various organizations have been making massive investments on CRM solutions to have 360 degree view of customers and often failed to get satisfactory results. Any business today implements the CRM solution to gain following advantages:
Enable businesses to increase their sales effectiveness
Solutions to drive customer satisfaction
Streamline business process
Identify and resolve bottle necks
The major challenges that organizations face today for implementing a CRM solution:
A right CRM solution: CRM is a part of strategy and just not software. Business seeks a solution which is just right for their business strategy, which can be managed by software.
Cost of implementing CRM solution: The huge investment needed to maintain database of customers. There are additional expenses for infrastructure like computer hardware, software, personnel etc.
Complexity of CRM products: Organizations witness to the fact that CRM packages can be highly complex with vast amounts of intricacies. This makes it difficult for simple non technical employees to cope up
Not meeting Business Needs: Most of the time the companies let the technology drive CRM functionality and realize that it is not solving their problems.
Managing CRM Applications: Since CRM applications are enterprise level systems, managing and maintaining such applications is a huge effort for the organization. The need is to have a robust system with lower maintenance effort in terms of money and personnel
Need of right partner: The CRM success rate gets enhanced with the right solution partner. The right implementation partner should have a combination of strategy and implementation. On one hand, having strategy consultant is good. But it's the solution partner who actually makes it work.
Oracle's Siebel CRM suite helps companies deliver a comprehensive and integrated suite of applications that offer a full range of CRM solutions, including Sales Force Automation, Marketing Automation, and Enhanced Customer Service.
Technosoft has a pool of talented Siebel consultants with significant industry experience. We offer Oracle's Siebel CRM implementation and support services to address business challenges. This lets organizations to automate their CRM system to collect and manage large amounts of customer data and then carry out strategies based on that information. This in turn helps in utilizing detailed customer behaviour and transaction information, loyalty, satisfaction, and profitability.
Technosoft Corporation offers services to business organizations to implement, use, and maintain Oracle's Siebel CRM solutions. Our competency areas in Siebel CRM include:
Siebel CRM Strategy Consulting services
Full lifecycle Siebel CRM Implementation
Integration, Migration, Upgrade
Validation, Testing, QA services
Specialized Application Production Support
Staff Augmentation services
Technosoft's consultants have extended and leveraged knowledge on the new Siebel Open UI which gives a new user interface paradigm and a high flexibility to use Siebel from all modern browsers and mobile devices. Implementing Siebel Open UI will make the existing Siebel application smart, efficient, interactive, intuitive, accessible, and easy to navigate, with a modern look and feel.
Our Siebel CRM Service Offerings

Siebel CRM Implementation Services
Technosoft focuses to offer best in breed implementation services of Oracle Siebel CRM solution. Our approach towards providing solutions to your business pain areas are by customizing our services, which is best fit and in line with your organization's objective. The synergetic combination pool of talented Siebel consultants and industry expertise help to streamline and automate business process areas such as:
Customer Database Management
Opportunity management
Campaign management
Customer Services management
Order Management
Sales force automation
Our Siebel CRM implementation capabilities include:
Configuration: Modifying base Siebel Objects and creating new objects.
Customization: Scripting, Complex enhancements, Development of non-standard Siebel objects
Integartion: Siebel Integration objects enabled for real-time interfaces. Non Siebel data pulled in using VBC/EBC
Reports: Developing BI reports varying from simple to complex
Automation: Automation of business functions like service request, salesforce automation, etc.
Conversion: Data Migration from existing systems, Delta Loads, Near Real-time data, Data Quality
Administration: Administration like adding LOV, Access and Group administration etc., Personalization, State model
Siebel CRM Application Maintenance and Support Services
Technosoft's maintenance practices, techniques, tools and methods have capabilities to evolve your existing CRM system to higher state providing more sophisticated user-driven functionalities and integrating with other systems in a cost-effective manner. We work as a single point of contact to handle all your Siebel CRM application support needs, ranging from triaging and providing solutions to user / functional issues, regular delta loads, solutions to integration issues, application administration services, change management etc.
Our Siebel CRM application maintenance capabilities include:
Supplemental DBA
Supplemental Maintenance
Supplemental Help Desk
Extension Support & Administration
Testing Support Services
Our Level 2 & Level 3 Support capabilities include
Problem analysis and replication
Problem resolution through work-around
Problem resolution by escalation to various support teams
Infrastructure to provide effective L2 technical services
Our Support methodology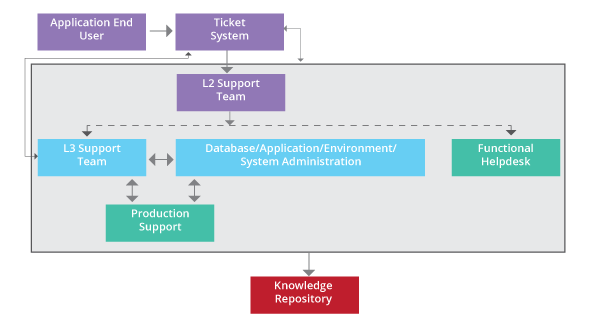 Siebel CRM Upgrade Services
Due to the fact that CRM solutions are implemented at enterprise level, these systems are complex by nature. To keep pace with growing business need and enterprise complexity, the Siebel CRM application should be made robust to cater such growth. Such growth force enterprises to serve diverse user profiles, multilingual enhancements, multi-currency and multi-regulatory needs. At Technosoft we understand technology change, architectural advancements and feature enrichments need to be incorporated in the newer version of applications. To meet all such changes it is imperative to upgrade applications regularly to benefit from latest application and technical stack enhancements and maintain basic supportability.
Our Siebel CRM upgrade capabilities include:
Mock Upgrade: Simulation tasks performed by utilizing the existing Siebel CRM custom repository in a disconnected mode
Technical Upgrade: Technical changes based on scope of work and work streams defined
Cleansing of Repository: Streamlining business objects
Upgrade Development Environment: Development and unit testing of migrated scripts, workflows, customization etc
Workflow/Script Migration: Documenting, Reviewing, Porting, Verification and Validation
User Interface real estate reconstruction: Change the look and feel of the user interface depending on the changes on the real estate
Additional Functionality: Enhancing the application functionality based on the new requirements
Post -Upgrade Verification and Validation: System/Functional testing based on business scenarios
Our Upgrade methodology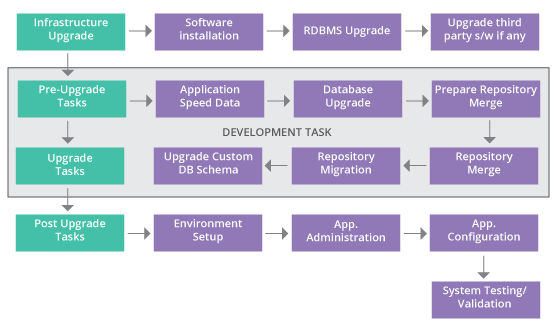 Technosoft has answers for all your worries and challenges when it comes to Siebel CRM! Be it custom standard/high interactivity Siebel CRM or the latest Siebel Open UI solution, we can deliver the beyond possible…
Good understanding of Siebel CRM: Technosoft understands Siebel not just as a software solution but as a business philosophy. Our experienced and talented consultants work with all facets of business to customize the solution in line with the business strategy


Objective based solutions: A single Siebel CRM solution is not fit for all the businesses and their unique objectives. We at Technosoft believe in tailoring each solution to specific business objective to gain maximum out of CRM implementation


Domain rich Siebel team: Our Siebel team is a right mix of talented IT consultants with consultants who are rich in domain experience. This gives advantage for customers to exhibit their pain areas in their own business terms and in-turn our consultants can convert them to technical specs for solutioning such pain areas with minimum or no knowledge transition


Technically aware and advanced consultants: Our continuous focus on learning & development of consultants helps us in building a team with expertise in technology and its utilization. Our consultants are trained in custom and latest technologies such as Siebel Open UI
Siebel CRM Implementation /Testing Services
Siebel CRM consulting services
High level design and Detailed design
Build and Unit Test
Work packets
SIT Support
UAT Support
Post go-live warranty support
Siebel CRM Application Maintenance Services
Enterprise Service Desk with application Support capabilities
Production Environment Monitoring and Administration
Application & Infrastructure administration services
Release management Services
Defect, Incident, Change and Problem Management Services
RCA and Impact analysis
Application Integration support and Services
Siebel CRM Upgrades Services
Environment Access
Upgrade script execution
Conflict  resolution UI
Report reconstruction
Script migration
SIT Support
UAT Support
Post go-live warranty support
01
Siebel CRM Capabilities
Download to read this in-depth case study.