01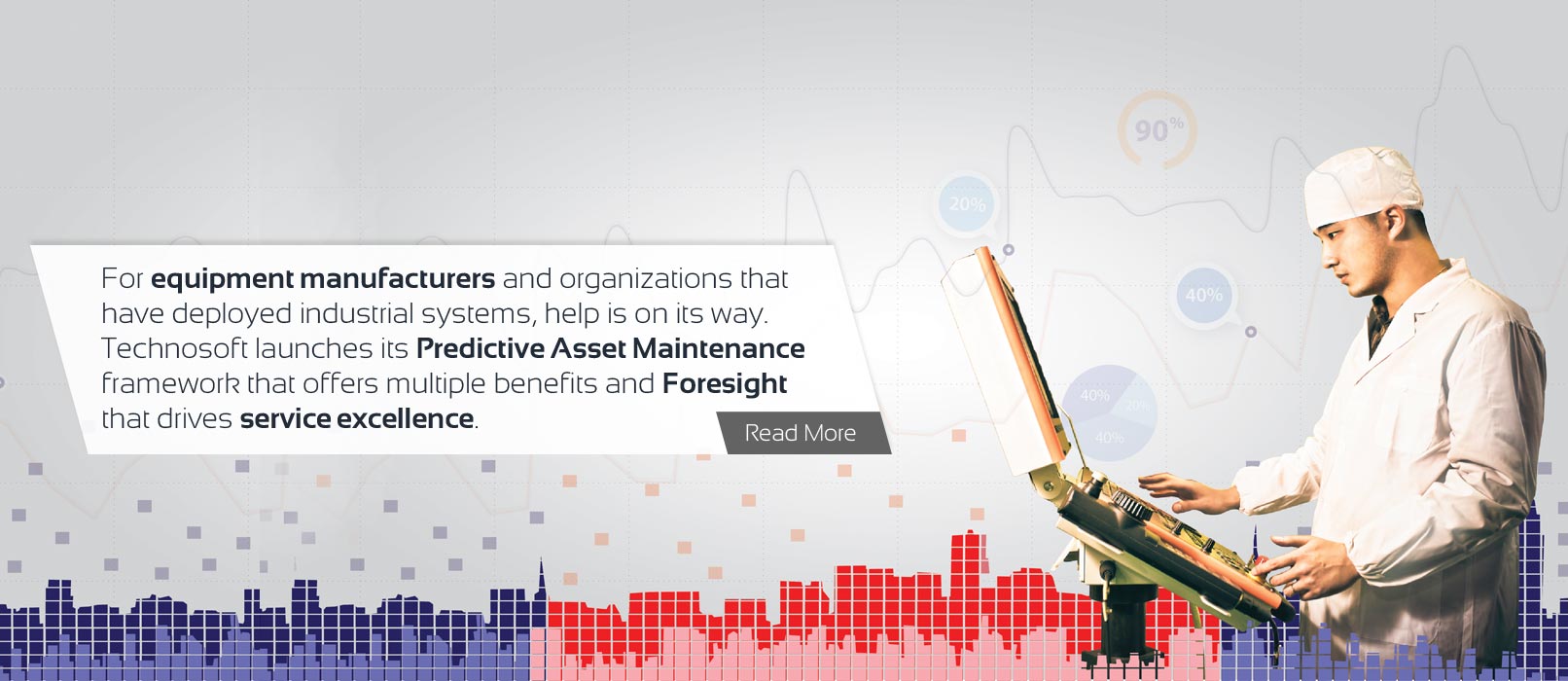 As Original Equipment Manufacturers (OEMs) compete in the race to launch new products to target emerging segments, Predictive Asset Maintenance is growing in importance. This is an essential strategy to improve customer satisfaction by minimizing downtime while reducing service and repair costs.
Technosoft has invested in our own Predictive Asset Maintenance framework that consists of data acquisition layer, a scalable data collection and staging platform, a predictive analytics layer and a visualization layer.
Click here to download our brochure and see the many benefits it offers your organization.
02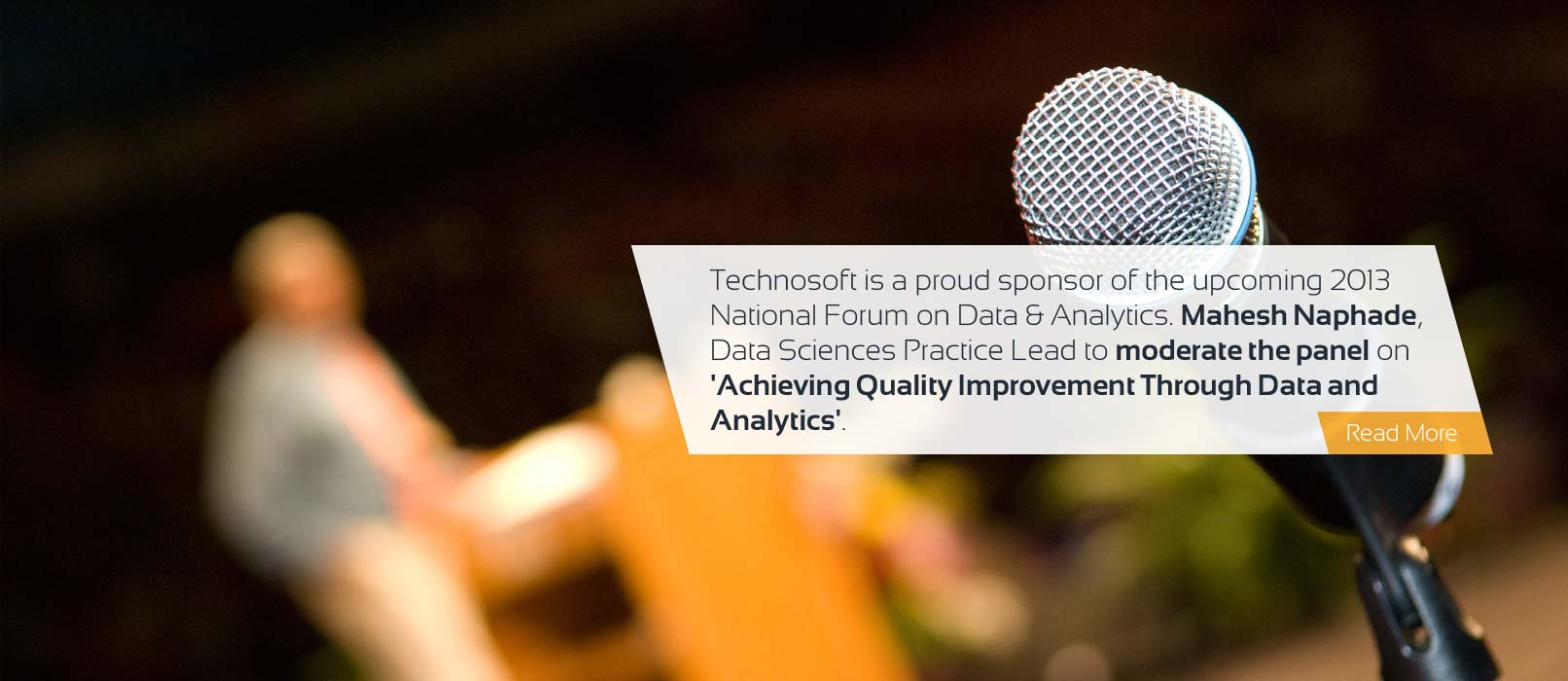 Technosoft is proud to sponsor the upcoming 2013 National Forum on Data & Analytics to be held between August 01-02, 2013, Washington DC. Mahesh Naphade, Practice Lead for our Data Sciences practice will moderate the panel discussion 'Achieving Quality Improvement Through Data and Analytics'. In this session, stakeholders across the healthcare industry will present through case studies, their perspectives on how organizations can improve quality and reduce costs by leveraging the recent advances in data and analytics.
Click here for more information on the National Forum on Data & Analytics
Click here to know about our Data Sciences practice
03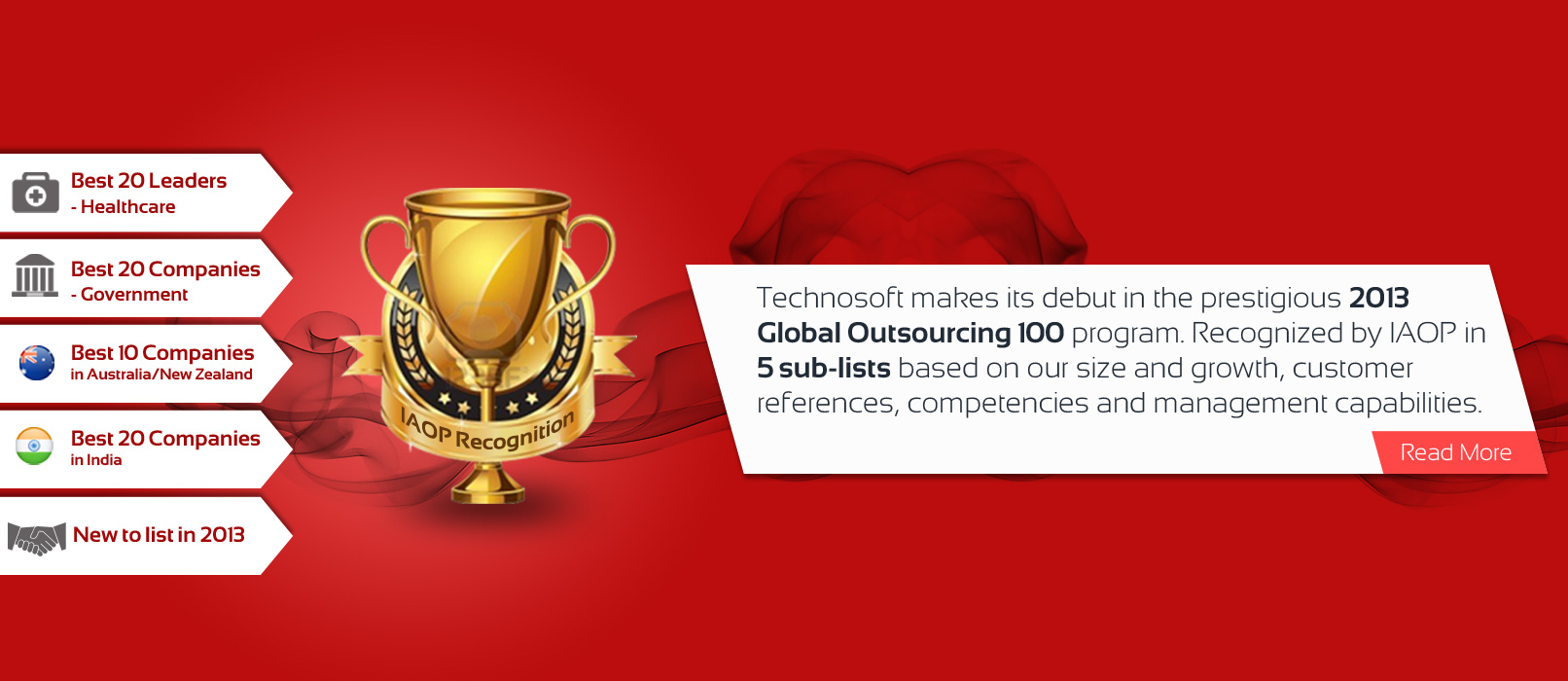 Technosoft has been recognized by IAOP® (International Association of Outsourcing Professionals®) in the recently concluded 2013 Global Outsourcing 100® program. The 5 sub-lists (or categories) Technosoft appears on are
Best 20 Leaders - Healthcare
Best 20 Companies - Government (all levels)
Best 10 Companies in Australia/New Zealand
Best 20 Companies in India
New to Lists in 2013
In arriving at The Global Outsourcing 100® list and various sub-lits, the IAOP judging panel considered the service provider's size and growth, customer references, competencies and management capabilities.
About IAOP: The International Association of Outsourcing Professionals® (IAOP®) is the global, standard-setting organization and advocate for the outsourcing profession. With more than 120,000 members and affiliates worldwide, IAOP helps companies increase their outsourcing success rate, improve their outsourcing ROI, and expand the opportunities for outsourcing across their businesses. To learn more, visit http://www.IAOP.org.
04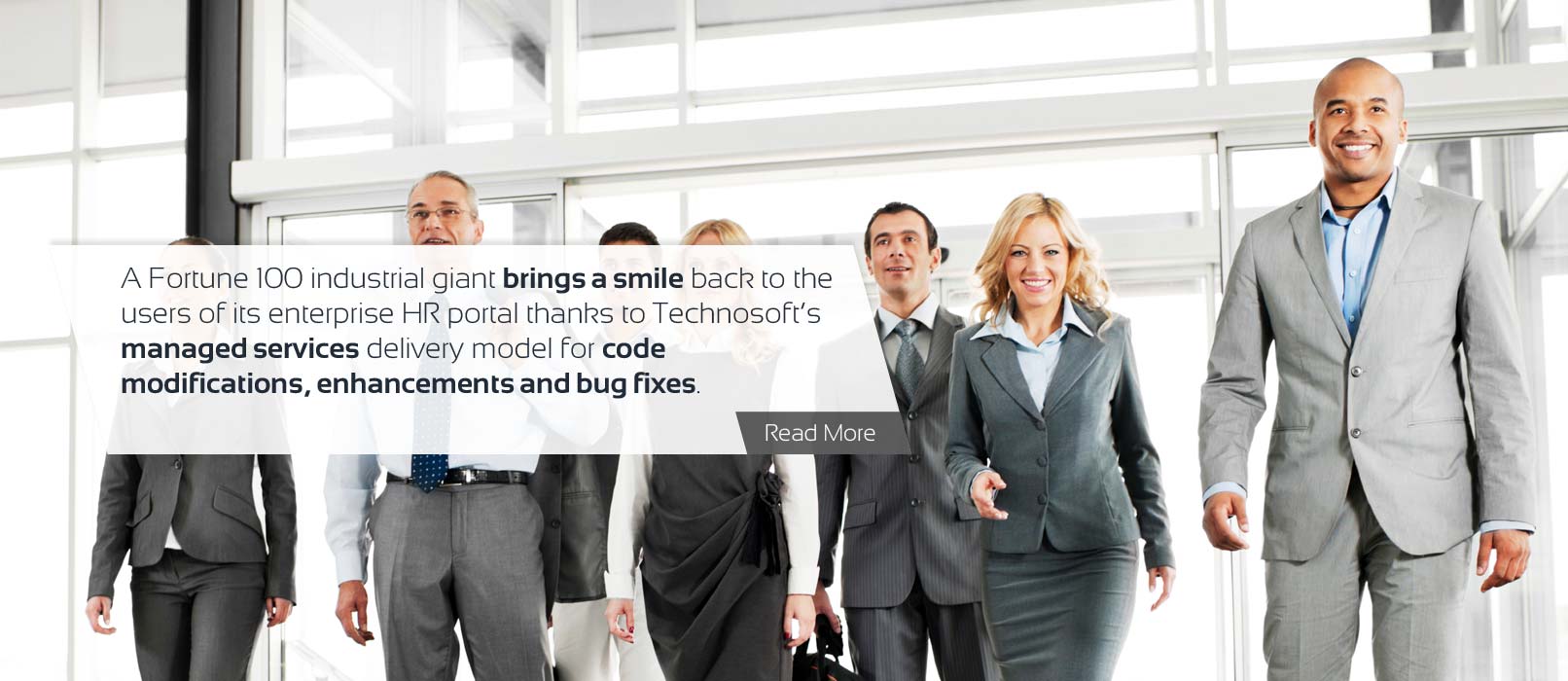 Increasing volume of end-user requests and the need to support a growing number of globally used applications led to a backlog of support tickets with most requests (code modifications, enhancements and bug fixes) not being addressed on time. Under staffing exacerbated this situation and led to user frustration which was reflected in the negative customer satisfaction scores.
Technosoft's managed services delivery model together with an effective transition and skilled team eliminated the backlog of support tickets, increased productivity and slashed time-to-resolve. The result? Customer satisfaction scores shot up leading to plenty of smiles all around.
Click here to download and read this in-depth case study.
05
Technosoft is proud to receive the best staffing partner award for 2012-2013 from Sears IT & Management Services India. This is an outcome of a comprehensive exercise undertaken by Sears in which all existing partners were measured on various parameters like engagement, responsiveness and flexibility.
Recognizing our tremendous support for various Sears teams, engagement excellence and ensuring quality fulfillment on time, Technosoft was given the Platinum Partner performance award – the highest category.
06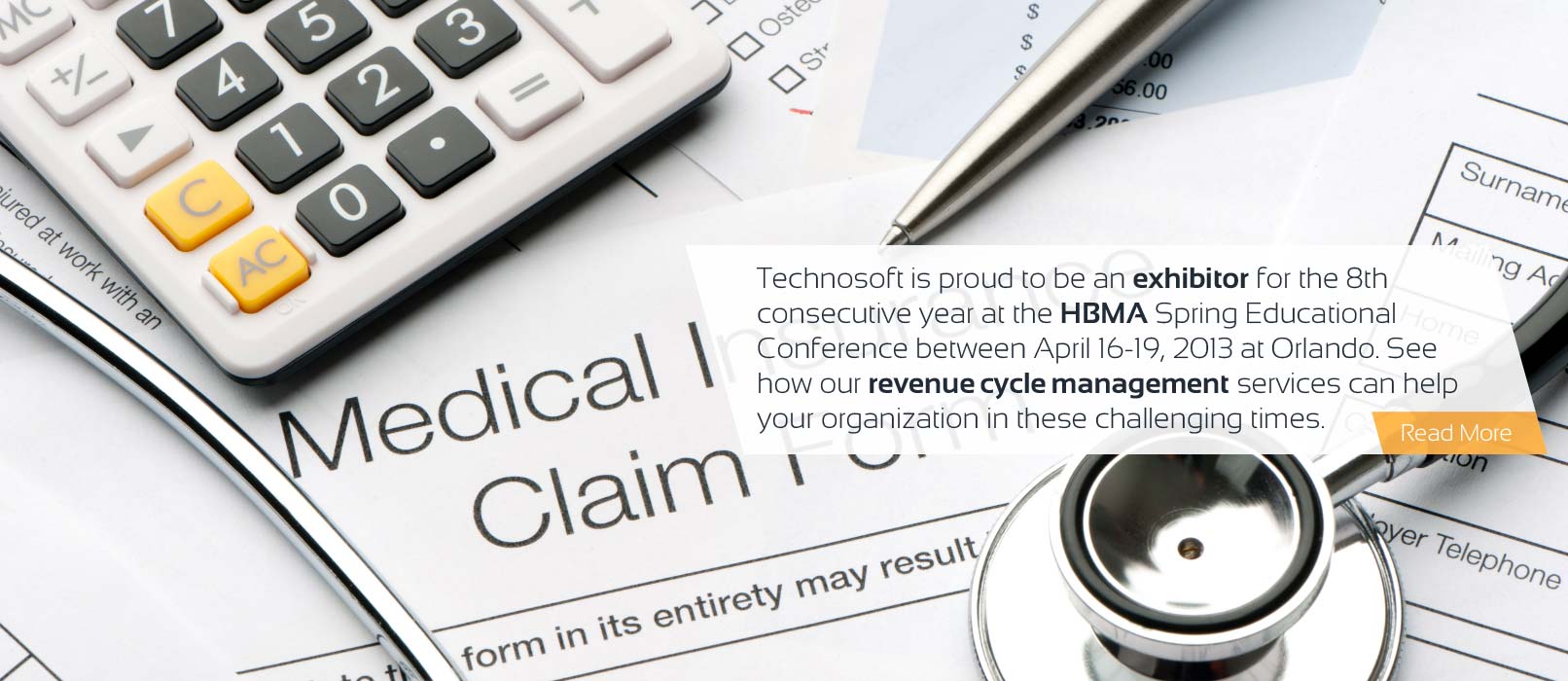 Technosoft is proud to be an exhibitor for the 8th consecutive year at the HBMA Spring Educational Conference between April 16-19, 2013 at Orlando. See how our revenue cycle management services can help your organization in these challenging
times.
Meet Setu or Dhina to learn how our comprehensive suite of revenue cycle management services can help your organization in these challenging times.


Booth #313 | April 17-19, 2013 | Walt Disney World Swan & Dolphin
Technosoft partners with several HBMA member companies and offers a full spectrum of services across the revenue cycle that spans processes such as Eligibility Verification, Coding, Demographics & Charge Entry, Payment Posting, Denials Management, Accounts Receivables & Collections and Refunds & Credit Balance Resolution.
These are delivered by certified and accredited coders, an online workflow management together with BI/Dashboard reports.
What truly sets us apart from other providers is our risk sharing mindset where we are paid based on results, flexible engagement (full service RCM, temporary projects or even AR wind-downs) and great relationship management offered by a US based account manager.
07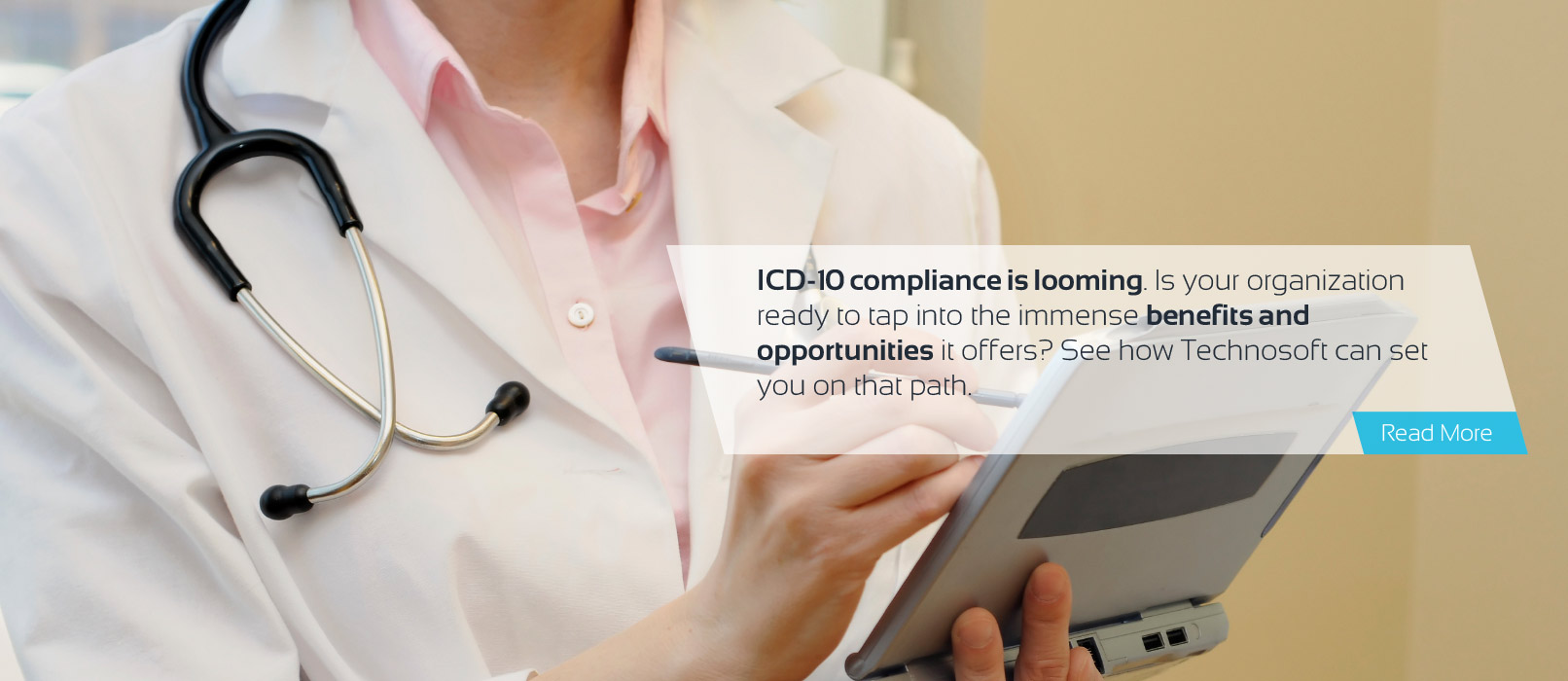 ICD-10 compliance is looming over all HIPAA covered entities. These entities need to adopt by October 01, 2014, the tenth revision of the International Classification of Diseases (or ICD-10) for the diagnosis and procedure codes to be able to successfully conduct health transactions.
As a first step to a seamless transition you need to identify all ICD-10 touchpoints in your systems and business processes. Subsequently you need to identify the needs, resources and training along with testing with third-party entities like clearing houses and related activities.
With a track record of helping the healthcare industry, Technosoft can help you navigate the complexities of ICD-10 migration by not only developing and reviewing your strategic approach, road map for implementation but also providing services necessary for compliance including IT system conversion, certified coders and training.
Click here to download and find out how Technosoft can help you get ICD-10 compliant
08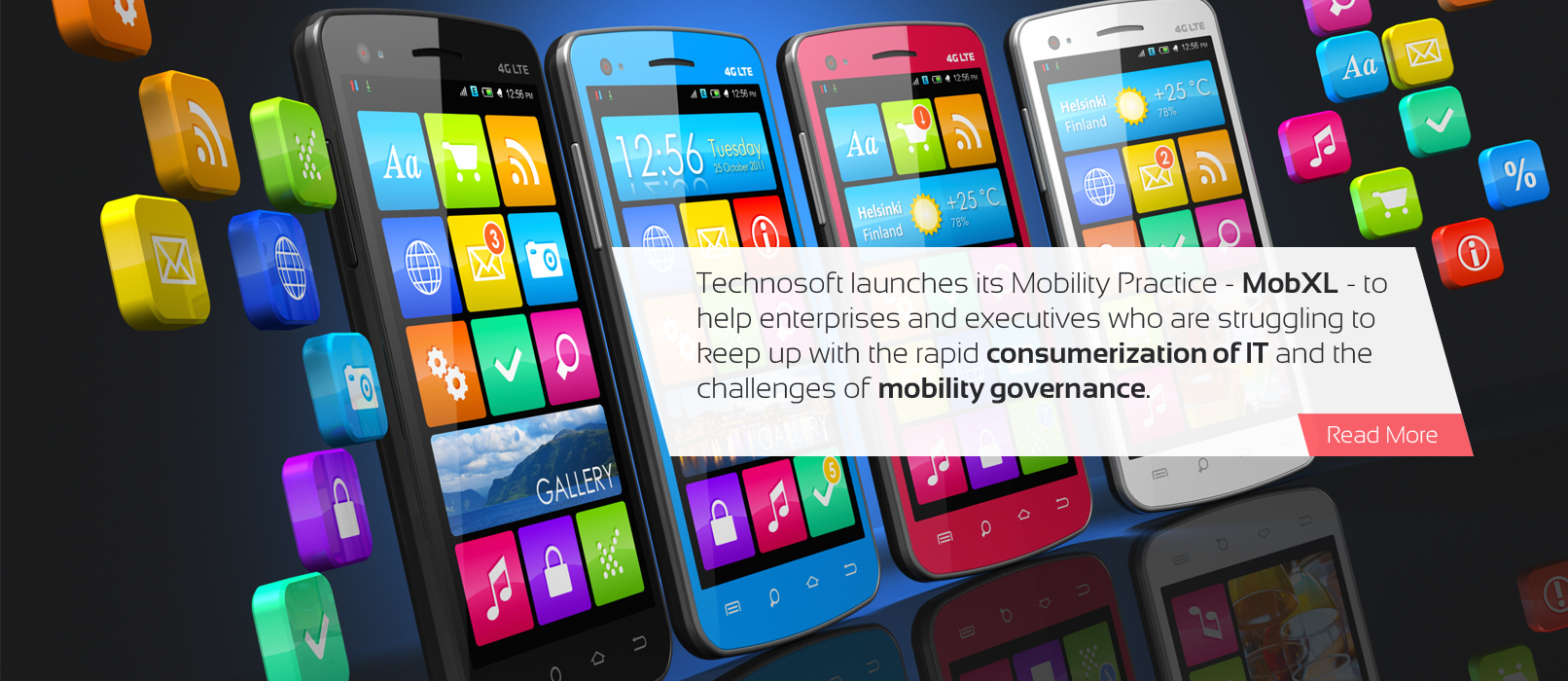 The trend of enterprise mobility is sparked largely due to the consumerization of IT and the growing number of employees who bring their personal mobile devices (cellphones, tablets) to the workplace, a phenomenon known as BYOD or Bring Your Own Device.
This market is expected to be $174 Billion by 2017 with an expected 600 million enterprise mobile users who want the freedom and flexibility of using the power of their personal consumer mobile devices in order to be productive and yet have access to enterprise IT systems.
It's rise however brings with it challenges associated with evolving a mobile strategy, deciding which type of mobile application serves the business objective (native, mobile web and hybrid), managing a multitude of devices running on various mobile platforms (iOS, Android, Blackberry, Microsoft) i.e. a heterogeneous environment and more worrisome being ensuring security spanning the device, the applications and most crucially the data.
Click here to know more about MobXL, Technosoft's Mobility Practice
09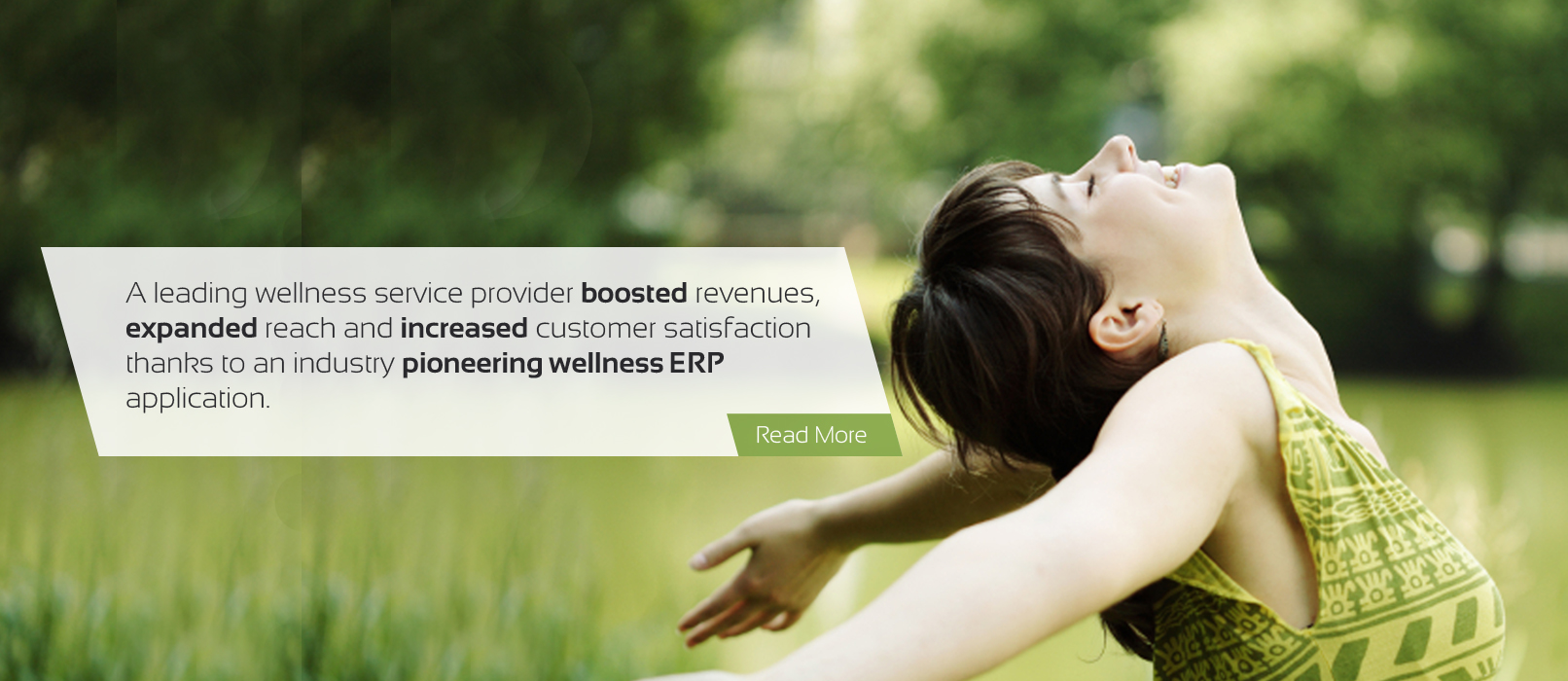 Summit Health gets a shot in the arm, administered by Technosoft
How did a leading wellness service provider boost revenues, expand reach and increase customer satisfaction?
Through a unique web based ERP application developed by Technosoft that integrated disparate systems, provided diverse functionalities and unified  various teams while improving efficiencies and re-engineering processes. In record time
A platform that set the course for Summit Health's spectacular growth. Little wonder then that nearly 80% of their business runs on our application.
Click here to download and read this in-depth case study.
10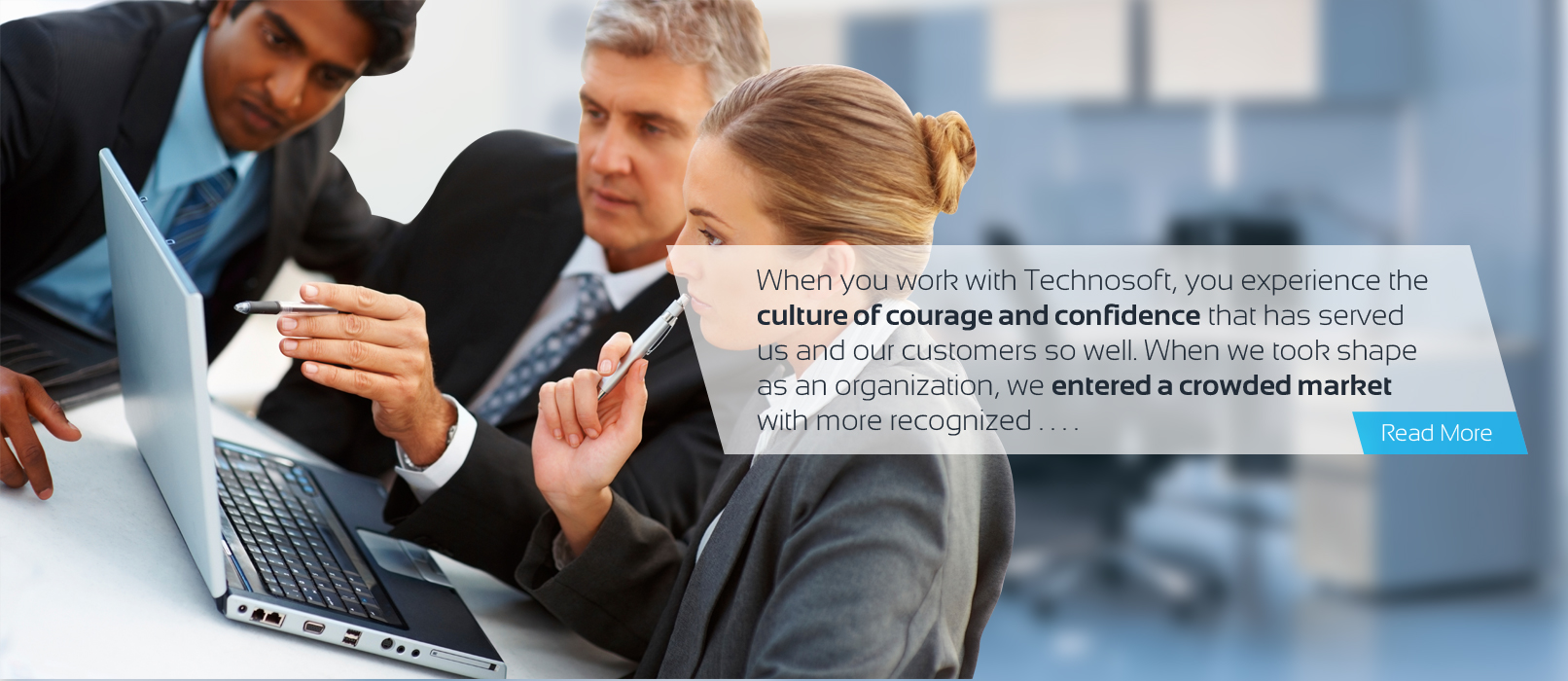 Culture of Courage and Confidence: When we took shape as an organization, we entered a crowded market with more recognized and established players who benefited from size and scale. But we recognized that there was an opportunity to make an impact - that a niche existed for a company willing to put its customers' interests first - someone who would provide the much needed focus and attention that was slowly but surely getting eroded in an increasingly commoditized and deal-chasing environment. What helps us in this quest is the fact that we are privately held. Hence the stakeholders to success are just two, our customers and our employees. This has provided us with the necessary agility and flexibility to take calculated risks, often to address specific business needs of our customers.
It is this trait that has stood in good stead as we have expanded into new industries like Healthcare, IT and BPO and provided enhanced services to industry segments such as security products. Today the former contributes significantly to our overall revenues and in the case of the latter we are a trusted partner to leading ISVs (Independent Software Vendors) to help them solve their engineering challenges.
This trait also lends itself well to situations where there are technical complexities that require a problem solving mindset and an unconventional approach to delivery execution and program management. For instance the development of a Wellness ERP from ground-up for a leading wellness service provider is truly pioneering. Today this application has helped our customer grow revenues, increase productivity and customer satisfaction and help them expand into new markets and service offerings. Or consider the case of a global financial services provider where we implemented a tool based automation solution for their complex reports migration within a narrow window and growing the relationship to providing analytics services and in the process displacing much larger and entrenched service providers.
Click here to know more about why we are successful.